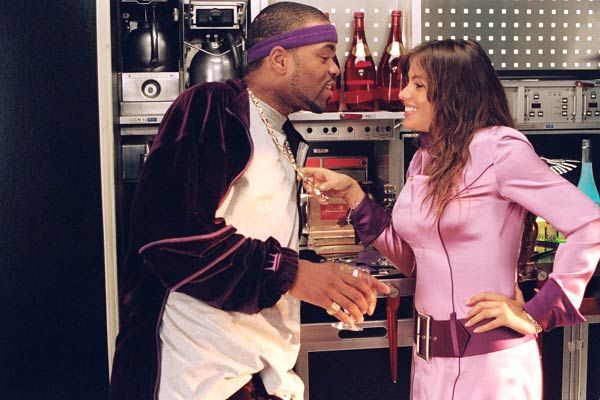 The Nigga Movie. I openly express my condolences to all who have had to watch one.
Every so often, I like to take a less formal approach, usually due to the topic. This is one of those occassions, friends. If anything, I hope you at least get a laugh out of this one. . .
For some time now, I've noticed a good number of people, white and black, have been grouping all "African-American" movies together in one single category. I personally take offense to this. I personally believe that just as we have our action genre and our romance genre in cinema, we too have a "black movie" genre and a "nigga movie" genre. I'm sorry but I take offense to the thought that a Denzel Washington film and one by, say. . . Mo'Nique, could be placed in the same grouping. If I may discern the chacteristics of these two types of movies. . .


Characteristics of a "Black Movie"
Anyone can sit down and enjoy it, regardless of race; it's a film that either has a mostly black cast or themes central to the black experience. Comicality is stereotypical at times, but within reason, within the limits of what's funny without being completely stupid or mindless.
Characteristics of a "Nigga Movie"
These films are blatantly targeted at blacks. The humor is senseless and is so stereotypical that it barely touches upon comedy, if at all. Nigga movies almost always lack a relevant plot, or one that you at least might care to care about. Another common trait of the nigga movie is that it is almost never necessary to watch these films to know what they are about. Seeing their trailers and commercials is usually ample information when making a judgment of them.
To stress my point, I'll bring up a recent black movie I saw over the holidays,
This Christmas
. Now, if your asking me what I thought of the film, I will eagerly tell you I thought it was bore fest. But that aside, it was not a nigga movie. Though many of the themes explored were stereotypical, they were not what I would call demeaning or distortive, foremost characteristics of nigga movies. It's jokes served to merely humor it's audience(as they should have), not propagate stereotypes at the expense of black people.
Now, for a prime example of a nigga movie, take the 2004 embarrassment,
Soul Plane
, which featured Snoop Dogg, D. L. Hughley, and long-time nigga movie contributor Mo'Nique. The humor catered to dumbest of the dumb. One might argue that any self-respecting African-American would be sorely unable to sit through crap like this film.
I had also intended include in this piece, my feelings on the just-released
First Sunday
, starring Ice Cube and Tracy Morgan, even though I am yet to see the movie. I actually have heard two positive reviews of the movie from friends and am considering
paying
to go see it, if only to find out if they were telling me the truth.
Some other examples:
"Black" Movies
Barbershop
House Party
This Christmas
Friday
Malcolm X
Boyz 'N the Hood
American Gangster
Tyler Perry's Diary of a Mad Black Woman
Set It Off
"Nigga" Movies
First Sunday*
Phat Girlz
Welcome Home Roscoe Jenkins*
Soul Plane
Friday After Next
The Cookout
( * indicates tentative listing)
Being on the topic of nigga movies, I think it's funny to mention that during one of his stand-up routines, comedian D. L. Hughley joked that he had to pick up his check for
Soul Plane
with a paper bag over his head.
I think I'm done ranting, for now. . . but let me know you all think and feel free to list any flicks that should or shouldn't be on my lists.
[Disclaimer:

THIS IS AN OPINION PIECE

]
(You do not have to be a member of Blogger to comment. Choose 'other' or 'anonymous' when your identification is asked for.)